Welcome to the Dependency Auditor Help Library
Dependency Auditor is an add-in for Microsoft Excel, designed to analyze calculations and data flows in spreadsheet and to quickly find and fix calculation errors.
What do you get by using Dependency Auditor?
Hierarchical view for drill down tracing dependents and precedents for selected range.
Error tracing - find cell, which produces error.
Find input cells for selected range.
Evaluate formulas, see value of each sub-expression in formula.
Filter cells by text color and background color.
See calculation order of all formulas in spreadsheet.
Save contents of Dependency Auditor's windows on separate sheet or text file.
Easy navigation and search in dependency tree.
Please, check
How to ...
topic, to see how Dependency Auditor can solve various tasks.
Dependency Auditor has a unique feature - it shows hidden dependents and precedents produced by OFFSET and INDIRECT functions! This tool will show you actual dependencies in your model.
You can track all dependencies and see data flows in your spreadsheet. Dependency Auditor uses new way to display dependencies in Microsoft Excel. This new interface makes tracing easy and understandable. You will see hierarchical structure of your workbook.
Error tracing tool gives you ability to see all failed cells in place. You can easily navigate between them and analyse calculations.
Evaluation tool divides formula into sub-expressions. Each of them are evaluated and you can see how cell's value is produced.
Dependency Auditor add-in will save your time and increase productivity!
Note
Trial version of Dependency Auditor is limited with 30 days of working period. To remove this limitation, please purchase a license.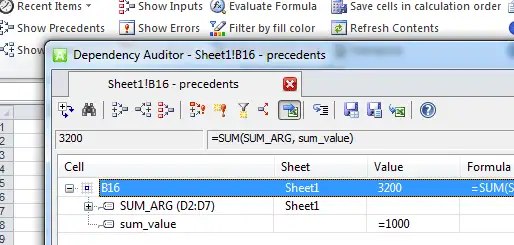 We hope that you will be satisfied with our product. This is our primary goal. If you need a specific feature which is not present now - let us know and we'll implement it ASAP.