Boost your productivity with Dependency Auditor
Fast and feature-rich utility to analyze, trace and compare Excel Dependency Trees
Analyze Excel Dependency Trees
Dependency Auditor is a tool to analyze and display dependency trees and debug calculations in the Microsoft Excel workbooks. It give you ability to audit your spreadsheet and analyze all data-flows. You can find where the every number came from.
Display Hidden Dependencies
Dependency Auditor detects and displays hidden dependencies, produced by OFFSET, INDIRECT and other lookup and reference functions. You can't see them with standard Show Dependents\Precedents commands. But Dependency Auditor shows actual dependency trees in your model.
Primary aspect
of the
Dependency Auditor
is to display dependency tree. You can drill down through this dependency and analyze all parts of the formulas, see result of each operation, and find there the values came from. If you think that your spreadsheet is wrong you can debug every value and find out how it was produced.
Why Dependency Auditor?
Drill down tracing for dependents\precedents
Show all arguments of the formula in single list
Transpose selected range
Dependency Auditor will save your time in analyzing workbook structure and debugging calculations in your spreadsheet.
Armed with Dependency Auditor,
the user is able to solve the most common problems that you encounter on a daily basis.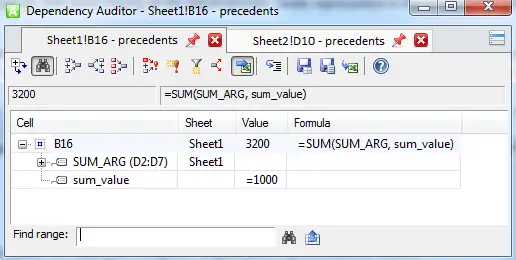 We suggest you to review
features
page to find more screenshots and features of the Dependency Auditor.
Download Dependency Auditor
Version: 5.0.0
Download Size: 2.3 Mb
File Name: xda.msi
Order Dependency Auditor
License: Permanent
Price: EUR 19.95
Evaluation Period: 7-days
Compare Excel Files
Use xlCompare to compare constant cells, formulas, formatting and Visual Basic Forms and Macros. Including powerful Formula Dependency and Calculations Tracing commands.
Version Control for Excel Files
Integrate xlCompare with SVN or other version control systems and use it to merge changes in different versions of your workbooks and to resolve conflicts.
Why xlCompare?
Compare and Merge Excel worksheets
Compare and Merge Visual Basic Macros
Compare and Merge Visual Basic Forms
Compare, Merge and Update Databases
Resolve conflicts in one click
Integrate with Version Control Systems as Diff Viewer
Find and Remove Duplicates
Filter and Sort Records
Analyze and Trace errors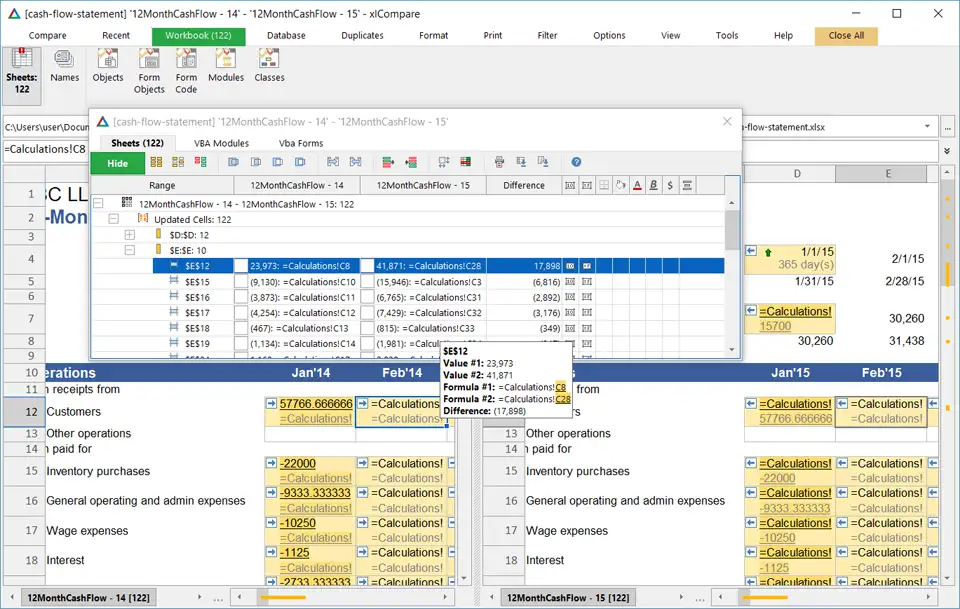 Download Excel File Compare
Go to xlCompare website to find more information and download the product: